TAURUS - the ideal machining center for the following applications:
Steel Construction; frames, railway bogies, fixtures, housings
Gearboxes, turbine housings, pump housings, printing machine parts
Machine tool components; machine beds, saddles, spindle housings
Engine blocks, base frames
Tooling, aerospace & die components; fixtures, mandrels, form dies
Ideally suited for machining: steel, aluminum, titanium, cast iron, composites, all types of exotic alloys
and for Your application.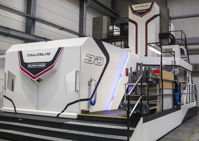 TAURUS
The only wear free machine in its class.
Highest precision in the category.
Aesthetic appeal that is unmatched.