BEHRINGER Mitre-cutting bandsaws
Made for mitre cuts and steel profiles.
Impressive output and cutting range.
Full power in any position
The universal machines from BEHRINGER can handle any job that is needed. Perfect to slicing through sectional steel as well as solids in metal and comparable plastics at almost any optional angle. With precise cuts, individually adjustable for bidirectional mitre cuts between 90° and 45°, and optionally even for acute angles of 30°.

Semi-automatic variants
In the BEHRINGER semi-automatic models, the material is positioned by eye, for instance with the aid of a linelaser. This procedure is recommended for frequently changing cut-off length and when the sections are marked on the material already.

Automation
Where larger cut-off lengths are required, we recommend the use of a measurement device for precise positioning of the material. Used in conjunction with infeed and outfeed peripheral devices such as roller conveyors and transverse transport devices, the degree of automation can be increased to achieve added streamlining effects.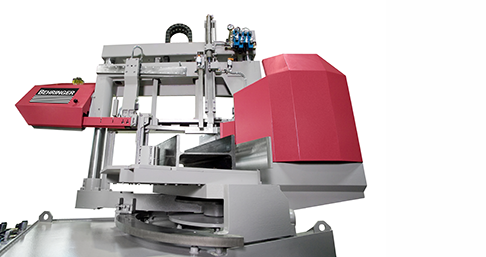 Model
Cutting range
Mitre right
Mitre left
90° round
90° flat
W x H
45° flat
W x H
45° flat
W x H
30° flat
W x H
HBE320-523G
320
520 x 320
330 x 320
390 x 320
200 x 320
HBP410-723G
410
700 x 400
450 x 380
450 x 400
300 x 300
HBP410-923G
410
900 x 400
600 x 380
600 x 400
400 x 300
HBP510-723G
510
700 x 500
450 x 500
450 x 500
300 x 400
HBP510-923G
510
900 x 500
600 x 500
600 x 500
400 x 400
HBP510-1208GA
510
510 x 510
810 x 510
810 x 510
510 x 510
HBE610-1256G
610
1250 x 610
880 x 610
880 x 610
610 x 610
HBP800-1304G
800
1300 x 750
800 x 600
800 x 600
-