The low-noise, high-performance choice
The VA-L fully automatic straight cutting saw series are designed specifically for aluminium and NF metals and has totally redefined the standard when it comes to volume sawing of solid material, pipes and profiles with complex crosssections.
Their consistently high yield makes them a valued mainstay for renowned aluminium processing firms and producers the world over.
Key features of the series are the robust design, state-of-the-art drive technology used in the feed axis and main drive system, and the extreme rigidity of the ultra-precise saw spindle bearing. The result: an optimized, low-vibration cutting process providing extreme cutting output, excellent surface quality and maximum availability.
Pneumatic or hydraulic clamping
You have the choice between a pneumatic clamping fixture for gentle clamping and a hydraulic alternative for greater power when processing predominantly solid material. For parallel cuts, both systems are able to cope easily even where a slight torsion exists in the material.
Two feeding systems
The frequency-controlled main drive system offers scope for adjusting the cutting speed to the sawing process so that both high-strength Al-Si alloys and thin-walled pipes and profiles can be sawn. Two saw feed systems are available: Hydraulic as standard and servo motor-controlled feed as a high-performance option.
---
Model

 

VA-L 350 NC1
VA-L 350 NC2

Downfeed system

 

hydraulic

servo drive

Cutting range

 

90°

90°

Saw blade standard Ø

[mm]

350

350

Round

[mm]

115

115

Rectangular

[mm]

200 x 70

200 x 70

Square

[mm]

105 x 105

105 x 105

RPM

[min-1]

800 - 4200

800 - 4200

Drive power

[kW]

15

15

Feeding length single stroke

[mm]

970

970

Max. feed rate

[mm/sec]

800

1000

Dimensions L x W x H




without tunnel on infeed side

[mm]

1925 x 2660 x 2740

2460 x 2550 x 1850

Weight

[kg]

ca. 1250

ca. 1550

Model

 

VA-L 560 NC1
VA-L 560 NC2

Downfeed system

 

hydraulic

servo drive

Cutting range

 

90°

90°

Saw blade standard Ø

[mm]

560

560

Round

[mm]

200

200

Rectangular

[mm]

300 x 150

300 x 150

Square

[mm]

170 x 170

170 x 170

RPM

[min-1]

800 - 3200

800 - 3200

Drive power

[kW]

26

26

Feeding length single stroke

[mm]

970

970

Max. feed rate.

[mm/sec]

800

1000

Dimensions L x W x H




without tunnel on infeed side

[mm]

2200 x 2650 x 2740

2460 x 2550 x 1850

Weight

[kg]

ca. 1800

ca. 2100
---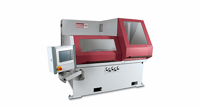 VA-L 560 NC2
Servo Drive Downfeed System
Cutting range 90° Round (mm) : 200
Cutting range 90° Rectangular (mm) :300 x 150
Cutting range 90° Square (mm) : 170 x 170