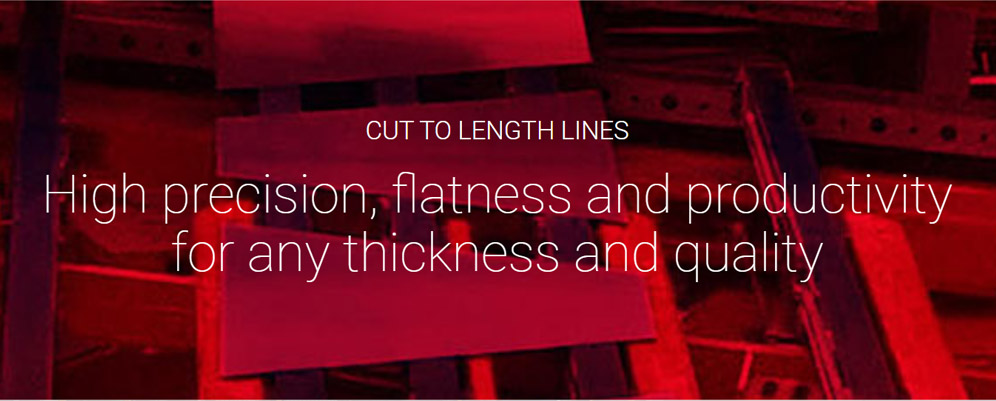 The cut to length lines cut an entry mother strip in cross section, forming sheets that are suitably stacked in compact and square packages.

SALICO cut to length lines cover the complete thickness range of strip, starting from 0.1 mm aluminium up to the thickest carbon steel coils, of 25 mm.
SALICO may deliver the complete panoplia of multiroller levelers of different types (4 Hi, 5 Hi, 6 Hi…) and sizes (work roll sizes from 25 to 180 mm), different type of shears (rotary eccentric, rotary drum, flying, mechanical, etc.) and different type of stackers (magnetic, vacuum, combined, bomb door, air floatation, etc.)
As variants within the cut to length lines we have the trapezoidal cut to length lines, typical in the automotive sector, and multiblanking lines, where strip is first leveled, then slit into strands and finally cross cut, resulting in simultaneous stacking of 4 or 5 pieces or blanks.

SALICO advantages
Safe and ergonomic operation
Even with thickest and hardest of materials.
High Productivity
By the high cutting capacity of our shears and the high capacity of our stackers.
By minimizing line down time by automating rolls and knives exchange operations, as well as enabling the automatic set up of line main components without operator intervention, starting from production data coming from upper IT levels.
By the possibility of using different stacking stations within the stacker with packages evacuation not requiring stopping the line.
By sections to do packaging of stacks off line using manual, semi-auto or automatic solutions for weighing, strapping and paper or plastic wrapping.
Start stop stacking systems
Either magnetic or vacuum for the protection of surface and edges of the sheets while operating at maximum speed, engineered and manufactured in house.
Cassette levelers with automatic exchange
In order to efficiently cover the whole range of materials processed in one line, leveling rolls with different diameters are automatically exchanged.
In the case of hybrid (processing steel and aluminum) lines, up to three different cassettes are used.
Cassette complete change in 5 minutes.
High capacity eccentric rotary shears
Up to 16 mm thickness, invented and patented by SALICO, with cut length tolerances down to ±0.2 mm and featuring strip camber compensation device.
Tilting eccentric rotary shears
Invented and patented by SALICO for cutting trapezoids on the fly.
No other shear in the market has higher cutting capacity and reliability.
Flying shears
For strip thickness between 16 and 25 mm.

Images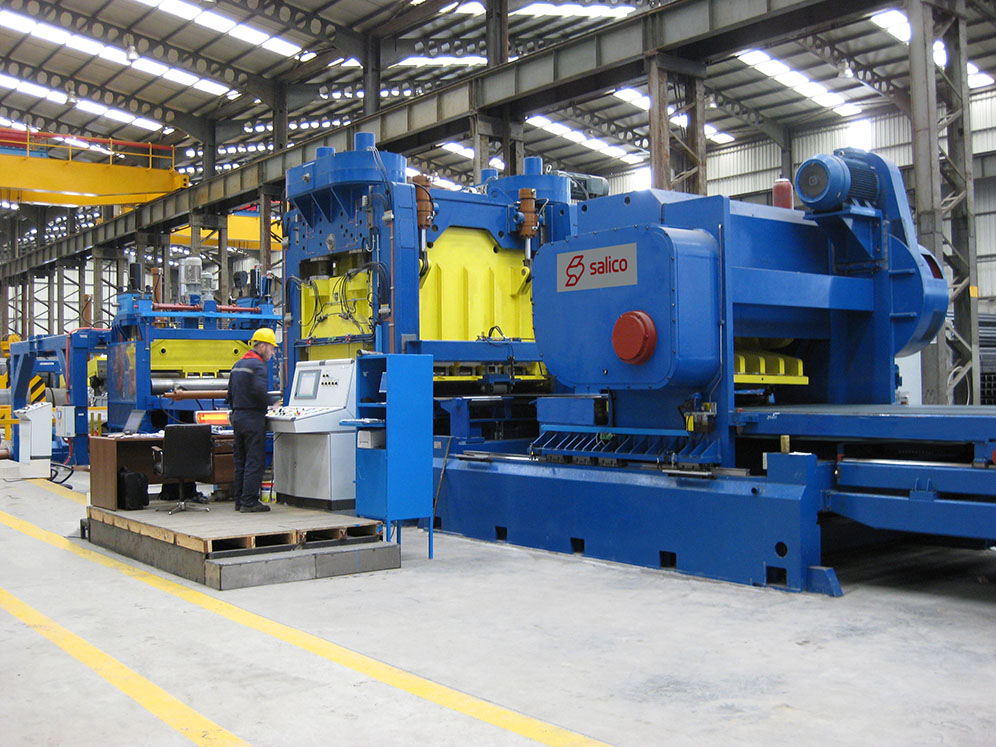 Carbon Steel 2,100x20mm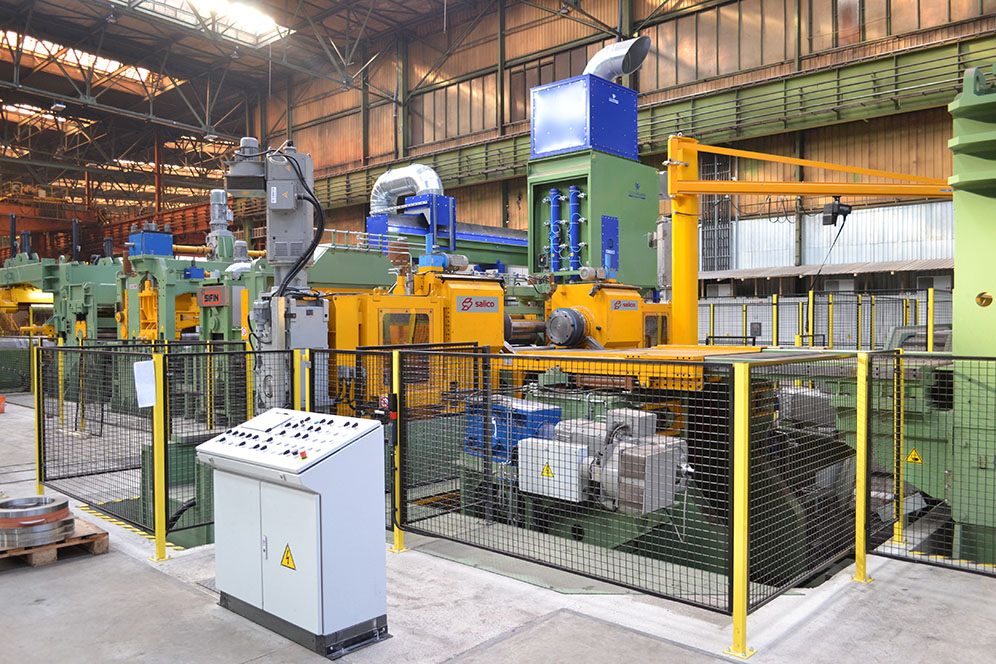 Carbon Steel 2,100x15mm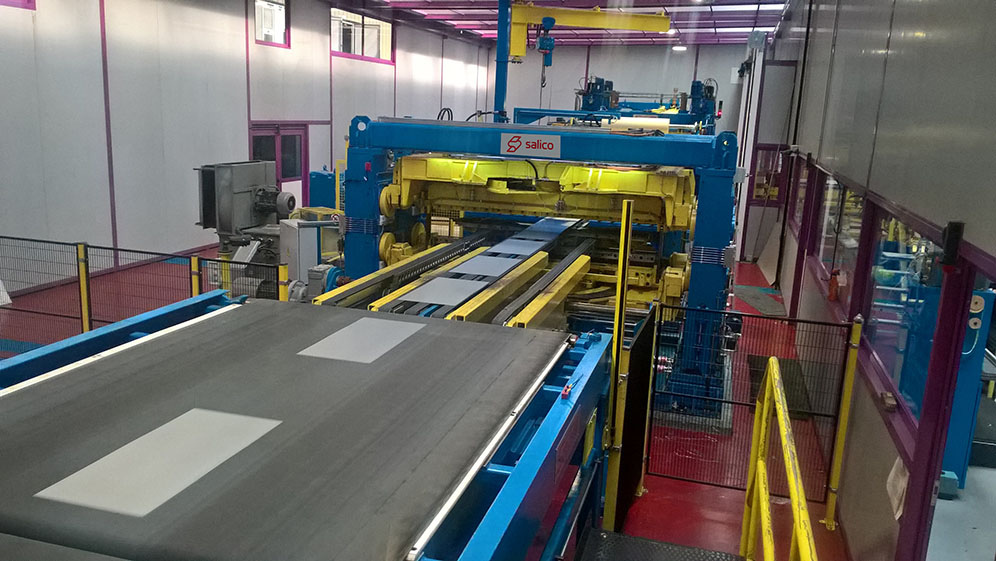 Carbon steel trapezoids cutting 2,100x20mm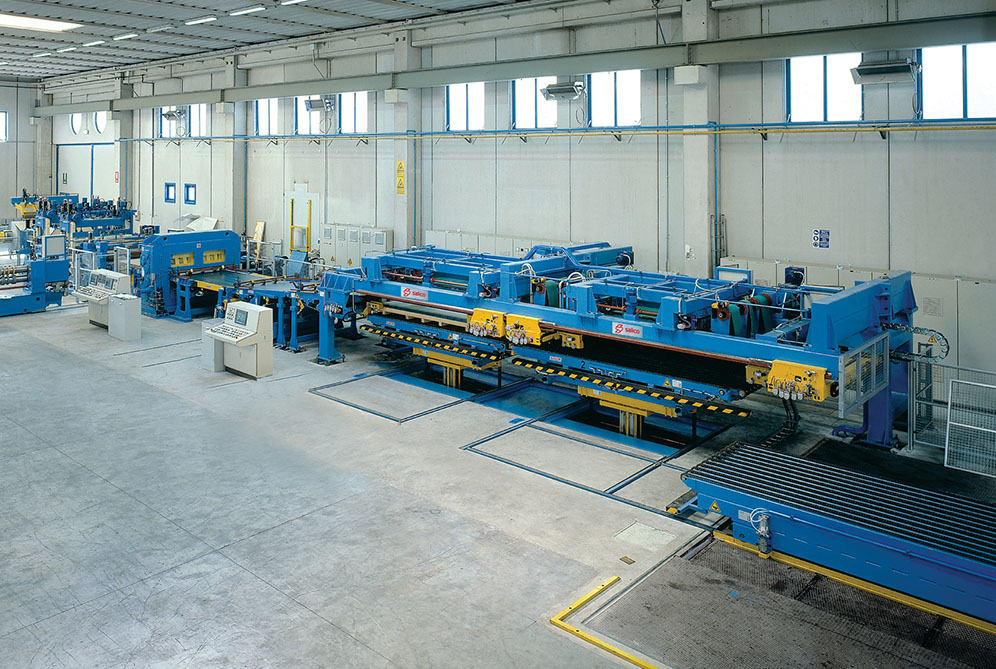 Carbon steel multiblanking 1,700x3mm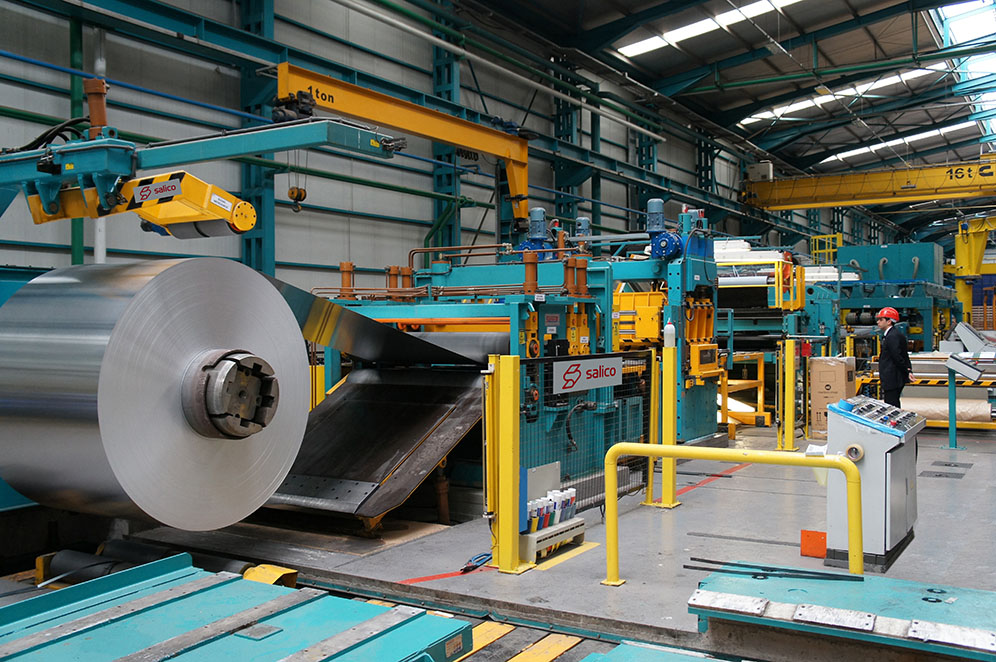 Aluminum 1,650x3mm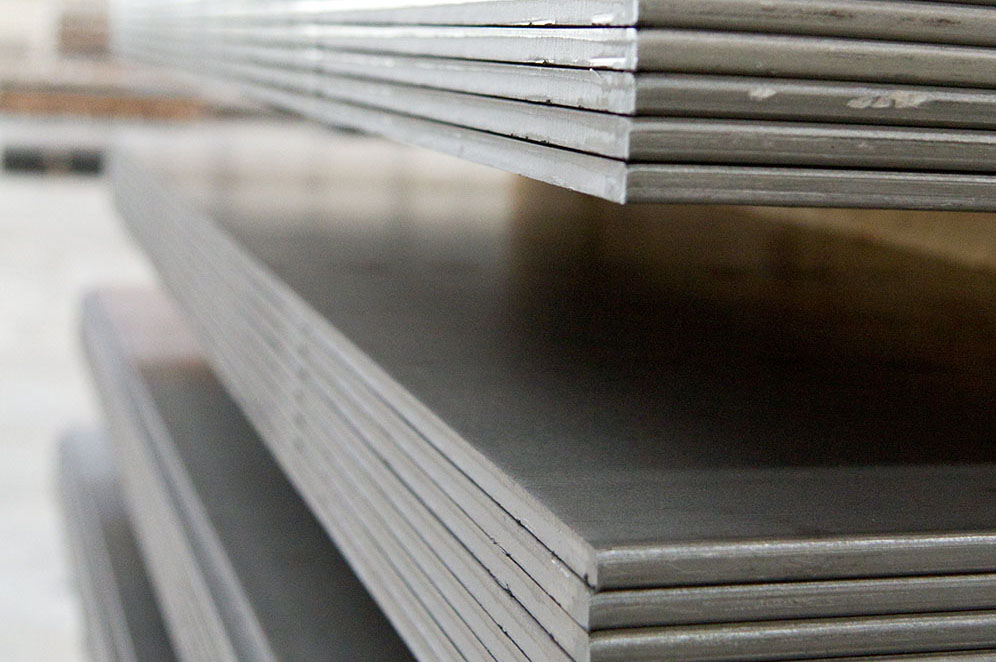 Cut-to-length details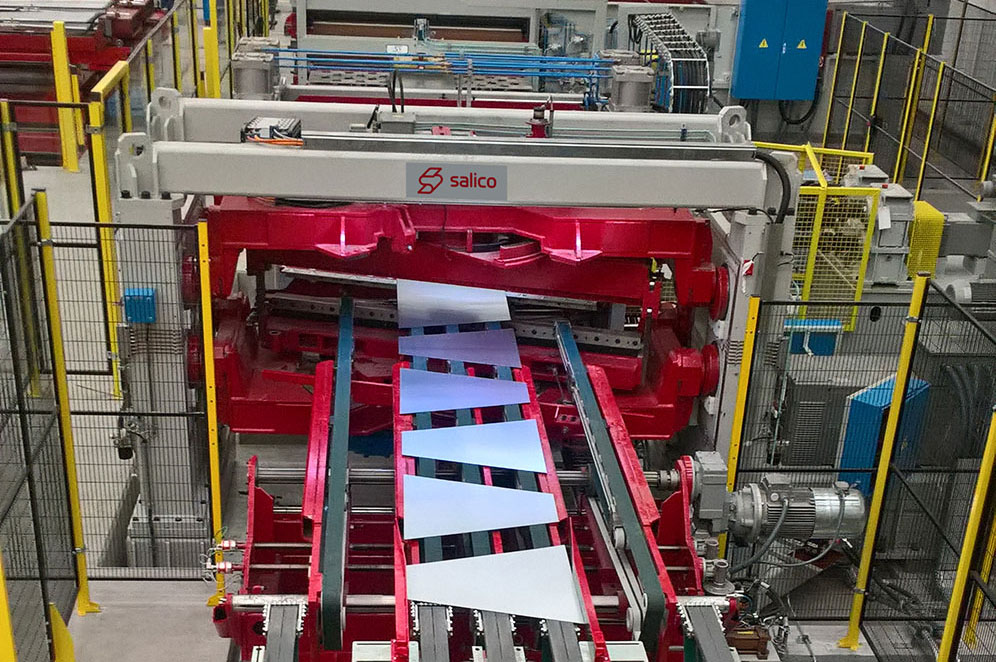 Hybrid trapezoids cut to length line 2,050x3mm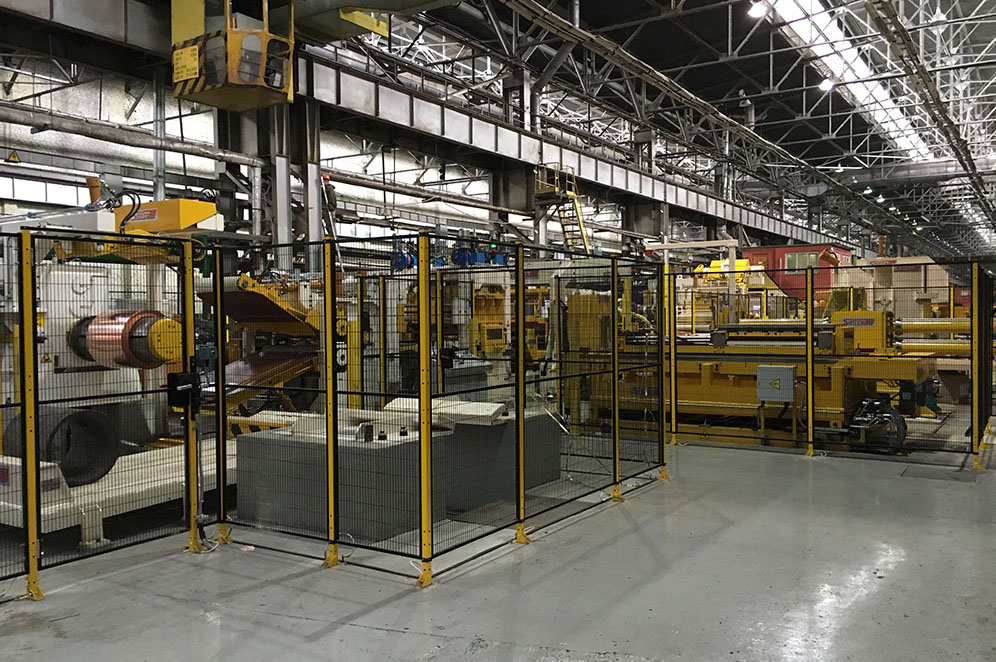 Copper & Brass 1,100x3mm