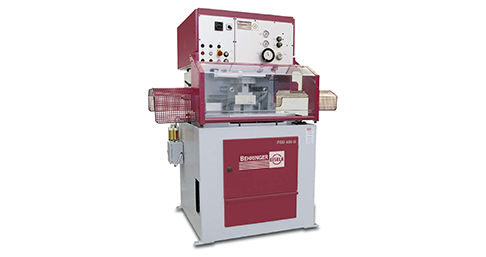 Robust and durable
The heart of the PSU saw unit is the worm gear unit with EISELE shock-absorbing feature, produced in-house. It is heavy duty and provides for a smooth, low-vibration running of the saw, which, of course, has a positive impact on the quality of the cutting surface and the blade life.
Outstanding cutting performance and long saw blade life due to:

the robust and sturdy machine base which helps reduce vibration and noise during the sawing operation
worm gear box with the unique rotation compensation feature developed by EISELE

Easy mitering with fixed stops 30°, 45° and 90°
Hydraulic clamping device
Standard clamping pressure regulation for cutting thin walled profiles
Saw blade feed continuously variable by means of current control valve



Features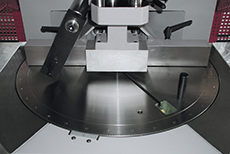 Convenient mitre adjustment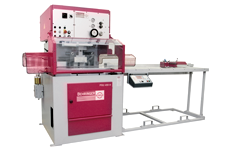 Electronic length measuring system with feed gripper

Model
PSU 450 H
Cutting range
Flat
90°
[mm]
240 x 70
Flat
45°
[mm]
170 x 70
Flat
30°
[mm]
120 x 70
Square
90°
[mm]
140
Square
45°
[mm]
125
Square
30°
[mm]
100
Round
90°
[mm]
150
Round
45°
[mm]
145
Round
30°
[mm]
120
Saw blade diameter
[mm]
450
Drive power
[kW]
3,0 / 3,6
RPM standard
[min-1]
6 / 12 / 24 / 48
RPM optional
[min-1]
12 / 24 / 48 / 96
Weight approx.
[kg]
1200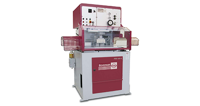 PSU 450 H
The "Universal" machine for locksmiths and metalworking shops Universal, precise, fast - the underlying performance features of the PSU 450 H semi-automatic upstroking circular sawing machine series. Designed for cutting profiles, pipes and solid material in metal and comparable materials, this machine is specifically designed to address the needs of locksmiths and metalworking shops.