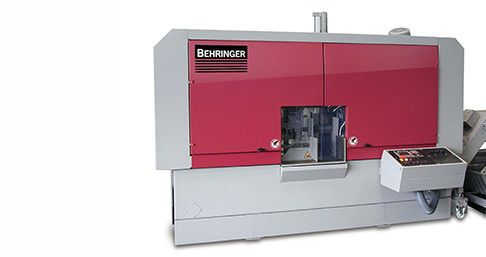 Unbeatable speed – even with the toughest jobs
To address the most stringent requirements. Ideal for high piece numbers and particularly hard steel qualities.
In the fast lane with the HBM
To address the most stringent demands in terms of cutting output, automation and process reliability in the steel trade and production, BEHRINGER HBM series high-performance automatic bandsawing machines offer an impressive package of benefits. From NF metals and aluminium through steel to inconel or titanium. HBM machines are characterized by the combination of high cutting output, high precision and reliability, guaranteed by their vibration-damping structure made of grey cast iron components and the saw frame with its centric flow of forces. The sensitive BEHRINGER feed control also helps protect the saw blade, ensuring even greater economy through a long tool service life. Fast feed movements on every axis help cut downtimes to a minimum.

Effective chip disposal
Any producer aiming to achieve high-performance machining with the utmost process reliability in low-manned operation must consider the issue of chip disposal. BEHRINGER HBM high-performance automatic bandsawing machines provide a solution which is as efficient as it is convenient. Underneath the sawing unit, directly in the direction of chip flow, is a generously dimensioned chip conveyor with integrated coolant tank. This intercepts and separates produced chips and coolant. The funnel-shaped machine stand ensures their optimum discharge. To allow for cleaning and maintenance, the conveyor is fitted with casters and can be simply rolled out to the machine frame. A highly efficient duplex chip brush system cleans the saw blade from any adhering sawing chips.

Even greater precision with servo technology
By using the optional servo feed system, even higher cutting performance is achieved when sawing tool and stainless steels and materials such as Hastelloy or Inconel with difficult machining properties. The linear feed movement ensures the constant discharge of chips and maximizes the efficiency of modern bandsaw blades. The fast response of the servo feed system to the sensors used for cutting pressure regulation consistently prevents overloading and premature wear of the tools.
Model
Cutting range
Feed length
single stroke
90° round
90° flat
W x H
HBM440A
440
440 x 440
600
HBM540A
540
630 x 540
500
HBM800A
800
800 x 800
600
HBM800-1201A
800
1200 x 800
600
HBM440ALU
440
440 x 440
600
HBM540ALU
540
630 x 540
500
HBM800ALU
800
800 x 800
600
HBM800-1201ALU
800
1200 x 800
600
HBM440A-PC-E
440
440 x440
600
HBM540A-PC-E
540
540 x 540
600