Lankhorst Mouldings produces a wide range of both single and multi-layer coil storage systems, that will improve the safety of your coil storage warehouse tremendously. Among others, our product range includes coil pads, coil saddles, coil blocks, coil mats, coil cradles, coil wedges and the turn-key KLP® Roll Stop System.
---
More info: 
Brochures:
---
 For further information visit Lankhorst Mouldings website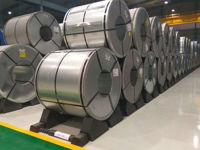 Developed back in 2005, today already our most popular coil storage system chosen by all major steel companies world wide. It is a turn-key storage system offering maximum flexibility and maximum safety. Coils may be stored up to three levels. The KLP® Roll Stop System consists of four simple components: rail, connector, spacer and RollStop - this allows a very simple installation on-site.